Prof. Maria Inge Lusida, dr. M.Kes., Ph.D.,Sp.MK(K)​
Head of Institute of Tropical Disease
Universitas Airlangga Periode 2020-2025
The early roots of Institute of Tropical Disease Universitas Airlangga (ITD UA) can be traced back from a research collaboration with Kobe University, Japan, under the scheme Large Scale Collaborative Study. It was named Tropical Disease Research Center (TDRC), but since then it also established its function as diagnostic unit named with TDDC (Tropical Disease Diagnostic Center), TDRC was changed into Tropical Disease Center (TDC). Since 2008, this unit became institute, directly under the supervision of Rector of Universitas Airlangga, named ITD UA. With these roots and also several international research collaborations thereafter, it is no surprise that ITD become a prominent institution in tropical and infectious disease researches and specific related diagnostics – hosting inbound (national and international) postgraduate student researches.
TEMPO.CO, Jakarta – There is a dominant variant in one gene among children with cleft lips or orofacial clefts (Cleft Lip and Palate, CLP) in Surabaya.
Read More »
Since 2013 at ITD , I have been conducting a collaborative research on influenza virus under the J-GRID program sponsored by Japan Agency for Medical Research Development, AMED. For this research, we have been given a lot of support from ITD. and our collaboration has been very sucessful. Recently we published a new finding on one of the top journals in the field of infectious diseases. Based on our recent finding, we expand collaborative research and I feel confident that this cooperation between ITD and Kobe University will be fruitful more and more in the future.
I 've been working in ITD since 2009, during that time I've been looking with my national and international researchers, we also have the opportunity to study aboard to take short course training in Japan especially, to improve our laboratorium skill.
I was so fortunate to join as researcher in ITD, Universitas Airlangga. I got many experience about laboratory skill especially in biomolecular technology. I hope I can develop my confidence and my optimistic to be greater scientist in the future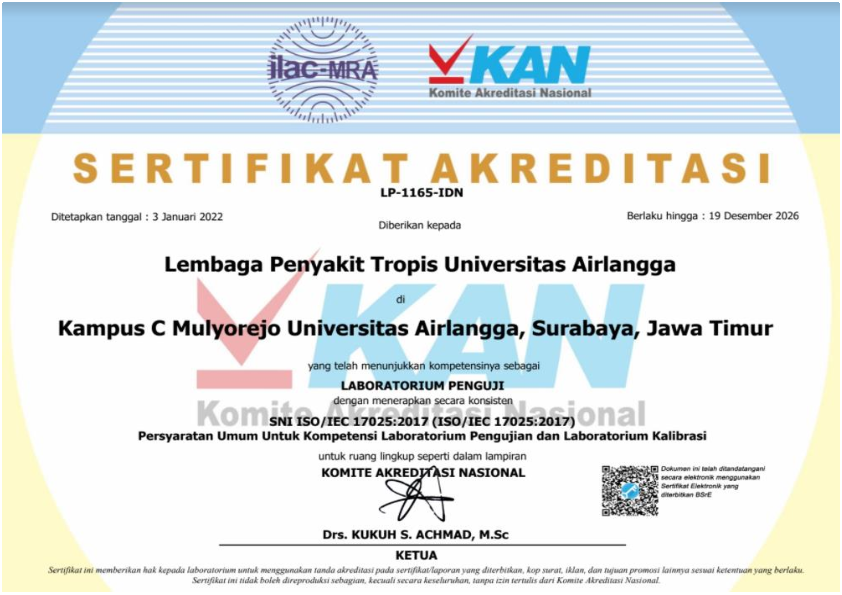 Scope of Accreditation:
>PCR of Dengue Virus Serotypes
>PCR MTB
>PCR M. Leprae
>HCV PCR
>HBV PCR
>Elisa anti-PGL1 M. Leprae
>Microscopic Examination of Malaria