Institute of Tropical Disease Universitas Airlangga received a visit from "One Health Student Club Batch 3" on Tuesday, September 13, 2022. This activity was carried out in a hybrid.
This activity is a means of education and introduction to OHSC Batch 3 members about the facilities owned by ITD and the role of ITD in research.

This visit received a good response from Prof. Maria Inge Lusida, Ph.D., the head of ITD Unair. This activity was also attended by the coordinator of ADPRC-OHCC, Prof. Dr. dr. Fedik Abdul Rantam.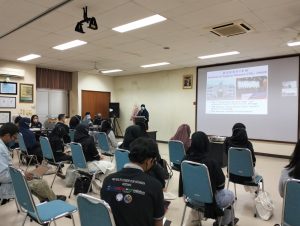 The activity was an introduction to ITD, which the head delivered of Human Resources of ITD Unair Laura Navika Yamani, S.Si., M.Sc., Ph.D. During this visit, OHSC Batch 3 members also conducted laboratory visits to the Malaria Laboratory, Dengue Laboratory, and TB Laboratory.