Institute of Tropical Disease Universitas Airlangga received a visit from the University of Lampung on Tuesday, November 15, 2022. This visit was within the Comparative Study in Research Capacity Development Project ADB-Unila HETI.
The Institute of Tropical Diseases secretary, Prof. Dr. Fedik Abdul Rantam welcomed this visit. Representatives from the University of Lampung visited six laboratories at LPT, namely the Leprosy Laboratory, Influenza Laboratory, Human Genetic Laboratory, Dengue Laboratory, and Tuberculosis Laboratory.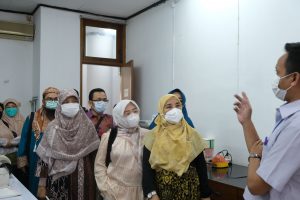 This activity discussed some of the research and collaboration in the Laboratory.